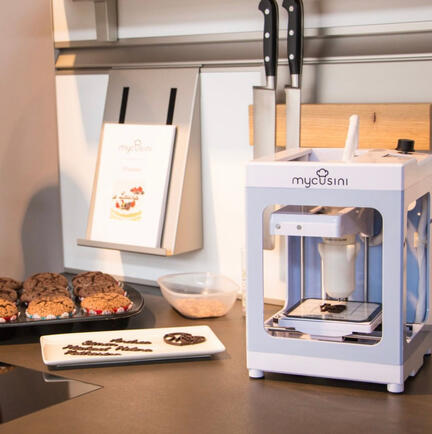 3D Chocolate Printer starterset1
€ 510,93
Item number: MK00051
Guarantee period for the 3D chocolate printer:
For private customers - 24 months.
For companies - 12 months
Prices are incl. VAT
The mycusini® is an easy-to-use 3D food printer made for the use in the private kitchen.
Including a template library with over 800 creative objects, selection and production directly on the display of the device.
The device works with included special 3D choco refills – which enable an immediate sense of achievement
Individual objects and text messages can easily designed in the free mycusini® club and produced in choco afterwards
The mycusini® is no bigger than a coffee machine and fits in every kitchen.
Dimensions of the printer:                                                                                                                        19x19.5x27cm
Production platform: 105x70mm
Delivery incl. 5 sticks (Choco Refill) à 32g = 160g

Customer reviews
Be the first to review this item