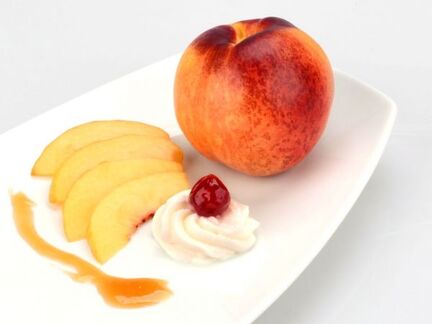 Aroma Paste Peach 120g
€ 5,27
Item number: MK14626
Volume discount
When purchasing 3: € 4,30
Suitable for creams, fillings and ice cream

Weight: 0,15 kg.
Prices are incl. VAT
Description
Ingredienser og Ernæringsindhold
Highly concentrated aroma paste
Aromatize creams, fillings or ice cream. You only need a small quantity aroma in order to achieve a full and rounded taste. The paste is free from artificial colours, flavours or preservatives. Suitable for baking.

Included in delivery: aroma paste, excluding fruits and decoration.
Dosage: 50-60g aromapaste, 1000g mass.
Ingredients:
Amarena cherry preparation 35% (cherries, glucose fructose syrup, sugar, sour cherry juice, concentrate (black carrot, hibiscus), acidifying agent (citric acid), natural flavours, glucose syrup, invert sugar syrup, red beet juice, cherry juice concentrate, ethyl alcohol, starch.. May contain traces of egg contents, milk components and nuts.
Ingredients:
Glucose, invert sugar, peach 17%, peach juice concentrate 7%, citric acid E330, natural flavors and aromas, alcohol 96.5% vol., Water, Arrac 58% vol., Rum 73% vol., Pectin E440a, tropical fruit extract.
Durability:
at least 6 months from delivery of the goods
Nutritional information:
100g contain on average:
Calorific value 1205 KJ 7 284 kcal
Fat 0.6 g
of which total Fatty acids 0.3 g
Carbohydrates 69.5 g
Protein 0.1 g
of which sugar 36.6 g
Salt 0.1 g