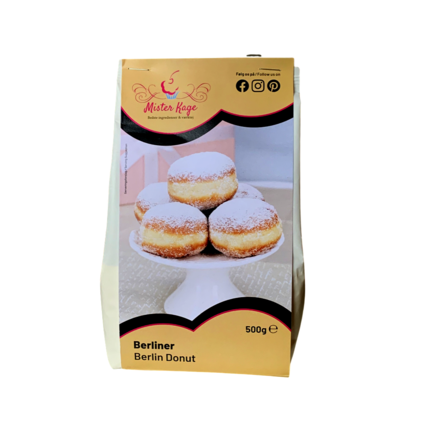 Baking mix Berlin Donut 500g
45,50 DKK
Item number: 10001
Complete baking mix incl. yeast

Stock information: Shelf life: at least 6 months from delivery
Prices are incl. VAT
Description
Ingredienser & Ernæringsinhold
High quality baking mix for a freshly baked, airy doughnuts. You will receive a flour mix for approx. 16 doughnuts and a separate packet of dry yeast.

You only need 55g butter or margarine, 125g whole egg (approx. 2-3 eggs size M) and 100ml water (approx. 26°C) as well as vegetable fat for baking.

Contents: 500g
Dough filling: 780g

Preparation:

Put all the flour and yeast in a bowl and mix everything together. Add water, the softened butter or margarine and the egg. In a food processor or hand mixer, knead everything slowly for 2 min and then quickly for 8 min. Let rest covered at room temperature for about 10 min.

For preparation in ourbread & cake baking machine (item no.: 16931), put the water, soft butter or margarine and egg into the baking pan and on top the baking mix incl. yeast. Select PROGRAM 18 and start the program.

Then divide the dough into 16 equal pieces (approx. 50g), round them and place them seam side down on a lightly floured towel. Press the doughnuts down a bit and let them rise, covered, for about 60-90 minutes, until the dough has significantly increased in volume. Heat the rendering fat in a deep fryer, pan or shallow roasting pan to 170°C. Place the doughnuts in the hot fat bath and first fry for 2 ½ min. with the lid closed on each side. Then bake with the lid open for 1 min. on each side. Drain the finished doughnuts on a paper towel (kitchen paper), fill as desired and decorate either immediately with sugar or after cooling with glazes and sprinkles.

Ingredienser:
HVEDEMEL, gær, dextrose, LAKTOSE, bordsalt, SOJAMEL, forgelatineret majsmel, WHEY-pulver, HVEDEGLUT, emulgatorer (mono- og diacetylvinsyreestere af mono- og diglycerider af fedtsyrer (rapsfrø, palme), dehydratiserende midler (calciumphosphat), rapsfosfat, raps-fosfat, rapspulver, calciumsulfat, raps-fosfat, rapspulver, calciumsulfat, raps-fosfat, raps-fosfat, raps-fosfat , Melbehandlingsmiddel ascorbinsyre, enzymer.
Ernæringsmæssige oplysninger:
100 g indeholder i gennemsnit:

Brændværdi 1471 KJ
350 kcal
Fedt 6,6 g
heraf i alt Fedtsyrer 3 g
Kulhydrater 60,6 g
Protein 13,2 g
heraf sukker 45,5 g
Salt 10,3 g