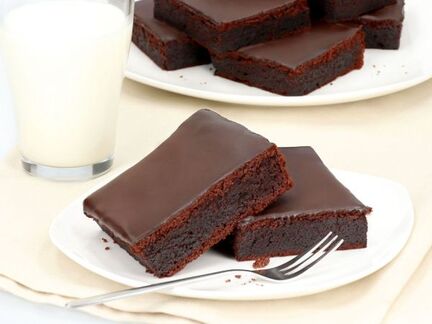 Brownie Mix Double Chocolate 516g
€ 7,79
Item number: 11525
Juicy brownie incl. chocolate icing

Prices are incl. VAT
Baking mix for chocolate cheesecake consisting of:
650 g Baking Cream

125 g cream powder
You will also need:
150 g eggs (about 3 eggs, size M)
175 ml cooking oil
150 ml water
For the cream:
100 g eggs (about 2 eggs, size M)
375 g low-fat curd
75 g butter
Preheat the oven to 180°C above/below and line a baking tray/frame approx. 28 x 32 cm with baking paper. Combine the baking mix, eggs, oil and water in a bowl and mix with a whisk first briefly on the lowest setting with a hand mixer or stand mixer. Then beat for about 3 minutes on the highest setting. Pour the mixture into the baking tray and smooth.
Melt the butter for the cream, leave to cool briefly and put into a mixing bowl with the remaining ingredients. Mix until smooth with an electric hand mixer and spread over the dark mixture in a plate-like fashion. Bake for about 25 minutes and then leave to cool.