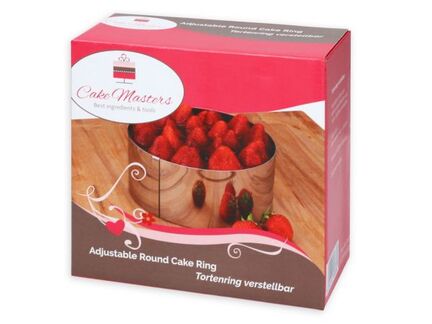 Cake ring adjustable 8cm high
€ 11,21
Item number: 10876
Stainless steel ring for baking and inserting

Weight: 1,02 kg.
Prices are incl. VAT
Buy adjustable stainless steel cake ring online - 8 cm height
- infinitely adjustable
-height: 8 cm
-diameter: minimum 16 cm, maximum 30 cm

-material: stainless steel
-dishwasher safe




Do you love to conjure up cakes and pies, but also desserts of all kinds? Then you should get yourself an adjustable cake ring, which you can easily use for many different delicacies thanks to its flexibility in size. Here you can buy a high-quality adjustable cake ring online with a height of 8 cm, which can be adjusted to a diameter of 16 cm to 30 cm. Practical handles make it easy for you to set the desired size. You can use it to make small and delicate cakes and to make the bases for larger cakes. Let your creativity run wild and see what you can come up with with the cake rings! The ring is made entirely of stainless steel, making it particularly sturdy and durable - for many uses in your creative kitchen. It's also easy to clean, even in the dishwasher if necessary.
Baking cake bases with a cake ring
Whether you need cake bases for a large or small cake or want to conjure up another delicious dessert with a cake layer - you can make the bases with the adjustable cake ring. For this purpose, first adjust the cake ring to the desired diameter and then place it on a perforated tray with baking paper or permanent baking foil. The use of a perforated tray ensures that the cake base bakes quickly and evenly thanks to the even circulation of air and heat. If the dough is very liquid, it is best to use baking paper and fold it into the edge of the stainless steel ring. This will prevent the dough from spilling out. Then place the tray in the oven and bake the cake base. The cake will rise evenly - without any bumps or cracks.
Inserting pies or creating other desserts
The adjustable stainless steel ring is also a great help when baking a cake base. First spread the cooled cake base once or twice. Take one of the cake layers as the cake base and secure the cake ring around it. If necessary, you can integrate a cake edge foil in this step so that the cake can be easily detached from the cake edge later. Now you can use alternating layers of cream and cake to sandwich the cake and make a wonderful treat. But you can also use fruit cakes with cake icing in the stainless steel ring. Through the ring, the cake icing does not run off the cake but can settle in the desired position.
Of course, you can also buy the adjustable cake ring and use it to conjure up delicious desserts. To do this, first make the desired cake base and then cut out small cakes to the desired size. Let our video tutorial inspire you. Here we show you how to make delicious chocolate cups.