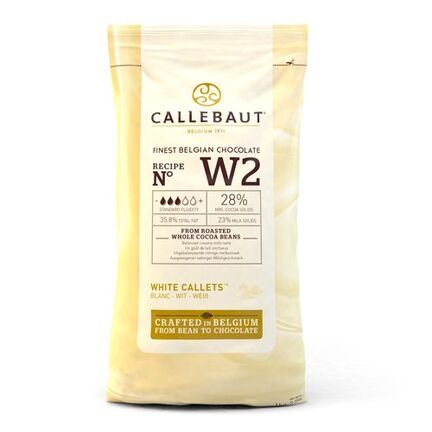 Callebaut chocolate white 1 kg
€ 22,56
€ 18,14
Item number: 15514
Couverture in the form of callets

Weight: 1,1 kg.
Prices are incl. VAT
Description
Food information
Callebaut offers a wide range of white chocolates. The taste varies from sweet to creamy to a refined touch of caramel. Every recipe is unique and is made of first-class compounds of cocoa beans. Furthermore Callebaut solely uses 100% pure cocoa butter as well as natural bourbon vanilla which highlights the touch of caramel.

Cocoa: minimum 28.0%
Milk: minimum 22.0%

Perfect for pralines, cakes and desserts.
Also suitable for making hot chocolate.

Made in Belgium.



Ingredients:
Sugar, cocoa butter, MILK POWDER (22,0 %), emulsifier: SOJALECITHIN; natural vanilla flavouring. May contain traces of NUTS and other OILSEEDS.

Nutritional content per 100 g:
Energy: 2415 KJ / 577 kcal
Fat: 42 g
of which total fatty acids: 25,2 g
Carbohydrates: 39,9 g
of which sugar: 37,2 g
Protein: 5.3 g
Salt: 0.01 g