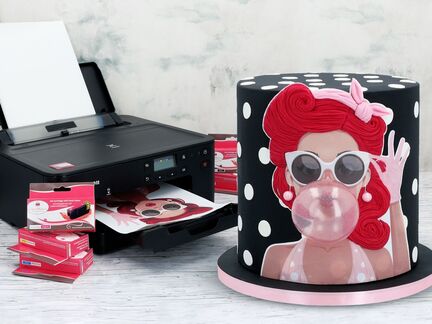 Certified Food Printer Set (copy) (copy)
€ 337,51
Item number: MK14991CM
Certified sugar printer complete set
Canon pixma ts 5050

The edible print set consists of a certified sugar printer, five edible color cartridges (PGI-570Bk, CLI-571Bk, CLI-571C, CLI-571M and CLI-571Y) and 25 sheets of A4 (20 x 30 cm) fondant paper.

Weight: 8,52 kg.
Prices are incl. VAT
Sweet delicacies such as cakes, cupcakes and co. can be wonderfully beautified by individual images. With an edible color printer, you can even print cake photos or cake decorations, slices of paper and transfer movies and set sweet visual highlights. Customize your cake impressively with our complete set for our printer and customize the decorative elements.
Complete set: certified sugar printer for cakes
This is certified compared to printers from many other providers. Food contact with the techniques and materials used in the printing process is absolutely harmless. The materials and raw materials used are in accordance with Regulation (EU) No 10/2011. The components that come into contact with the food print media during printing and the print cartridges were subjected to physicochemical tests.
Within the scope of the investigations conducted, there was no indication of a complaint under defined test conditions. Total migration and specific migrations are below the legal limit if used as specified. This food print set is accompanied by a corresponding declaration of conformity documenting the approved test results.
We must warn against the use of non-certified printers and inks for making edible decorations. Only a certified printer such as this model ensures compliance with the materials used to make edible printed products.
Stylish cake photos print yourself
Another advantage of this edible color printer is the rear straight paper feed. This means that the print media does not have to bend over the pulleys like other printer models. Even dry print media (papers) retain their shape and strength. So you can look forward to the high quality of the cookie prints that your printer allows.
The printer base is a quality product of the CANON brand. The printer has printing, scanning, and copying features. You can control it over Wi-Fi via your PC or Mac as well as via your iOS or Android smartphone or tablet. To connect without Wi-Fi, you may need a USB cable that is not included. You can also import your designs using an SD card.
The high quality ink cartridges are equipped with a chip and packed with edible edible colors.
Customer reviews
Be the first to review this item