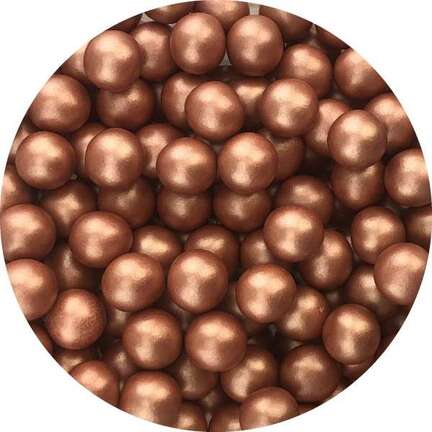 Chocoballs Vintage Silver large 130g, size 9-10 mm (copy) (copy) (copy) (copy)
€ 6,11
Item number: MK62975-130g
Chocoballs the delicious alternative to pearls
Delicious chocolate core
Easy and quick to attach to the cake
Excellent for pies, cakes, creams, ice cream and desserts
Sale to dealers only

Weight: 0,155 kg.
Prices are incl. VAT
Description
Ingredienser og Ernæringsindhold:
Chocoballs vintage silver
130g size approx 9-10mm
They are the eye-catcher on every cake and every pastry - our new chocolate pearls! Not only do they look great, they also taste particularly delicious. The colors are great for decorating baby cakes in blue and pink or for gold and silver weddings.
You get the pearls in the practical 130g bottle. Available in many other colors
Ingredienser:Sukker, kakaosmør, sødmælkspulver, kakaomasse, emulgator: sojalecithin (E322), naturlig vaniljesmag, fortykningsmiddel: arabisk tyggegummi (E414), risstivelse, farve: titandioxid (E171), farve: jernoxid (E172) , fortykningsmiddel: mikrokrystallinsk, cellulose (E460i), fortykningsmiddel: Hydroxypropylmethylcellulose (E464), emulgator: eddikesyreestere af mono- og diglycerider af spiselige fedtsyrer (E472a)
Ernæringsindhold:
Tellene er gennemsnitsværdier og er udsat for naturlige udsving referencebeløb.
Indhold pr. 100 g
Energi (kilojoule) 2070 kJ
Energi (kilokalorier, 1 kcal = 4,1868 kJ) 494 kcal
Fedt 21,1 g
heraf mættede fedtsyrer 12,9 g
Kulhydrater 71,2 g
heraf sukker 70,0 g
Kostfibre 1,8 g
Protein 3,8 g
Salt 1,0 g