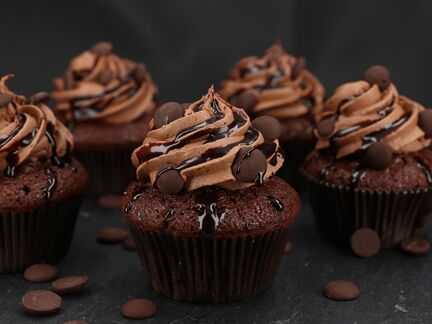 Chocolate Lover's Cupcakes 355g
€ 7,39
Item number: 14737
Incl. chocolate topping, chocolate callets and muffin capsules

Prices are incl. VAT
Baking mix for 12 small or 6 large cupcakes consisting of:
300 g baking mix
15 g cocoa powder
20 g chocolate topping
20 g Callebaut dark
12 muffin capsules
Make chocolate cupcakes with a delicious cream topping, chocolate sauce and dark chocolate callets
In addition, you will need:
125 ml cooking oil
100 ml water
100 g eggs (about 2 eggs size M)
For the cream topping:
300 ml cream (cold)
10 g sugar
Preheat the oven to 190°C above/below. Mix the pastry cream with the eggs, cooking oil and water with a hand mixer or stand mixer briefly on the lowest speed and then on the highest speed for 1 minute until smooth.
Place the cupcake capsules on a baking or muffin tray and spread the mixture evenly on the capsules. Bake the cakes for about 15-20 minutes and then let them cool. For the chocolate cream, mix the cocoa powder with the sugar and place in a tall mixing bowl. Add a little cold cream and stir until the mixture is smooth. Then add the remaining cream and whisk until stiff. Pour the cream into a piping bag with a nozzle and decorate each cake with a cream cap, Callebaut callets and chocolate topping.