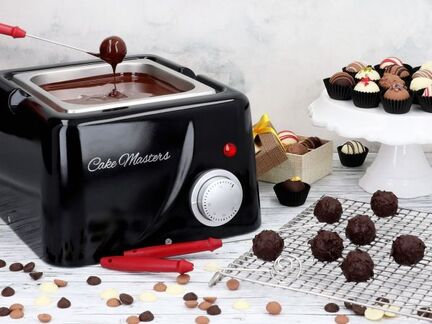 Chocolate melter PREMIUM LINE - 1,5 L + 3kg CALLEBAUT CHOCOLATE
€ 127,69
Item number: 21001
Set contains:
Chocolate melter PREMIUM LINE - 1,5 L

Callebaut Chocolate White 1 kg

Callebaut Dark Chocolate 1 kg

Callebaut Chocolate Milk 1 kg
Unfortunately, the item cannot be purchased, as there are no more in stock
Buy Chocolate melter to melt chocolate
Want to make delicious chocolates, hollow bodies or chocolate decorations? You need perfectly melted chocolate to get a shiny end product with a crunchy bite. When you buy the PREMIUM LINE Chocolate Melter, you get a professional melting and tempering unit for results without white streaks or an uneven surface. Thanks to the thermostatic control from 0-60 °C, you always have an exact overview of the temperature at which the chocolate should be. Thanks to a special resistor, the heat from the chocolate melter is distributed evenly and heats the chocolate efficiently and at the same time very gently.

Versatile chocolate melter for different applications
Chocolate melter suitable for chocolate and couverture, but also for many other applications, such as chocolate fondue. Melt and temper glazes, sauces, jellies, fondant etc. and conjure up a wide variety of delights. With a volume of 1.5 litres, the container provides the ideal space for all common tasks. You can coat pralines, cake pops or small cakes directly in the appliance. Decorate cakes, pies and fruit skewers with a sweet coating, create your own chocolate bars or make figurines. The possibilities are almost endless.
Technical data
Energy-saving thanks to efficient insulation. Stainless steel container and lid. Housing made of polycarbonate.

- 1.5 litre volume

- Rotary knob

- with lid

- 60 watts

- Width: 23 cm

- Depth: 26 cm

- Height: 12,5 cm