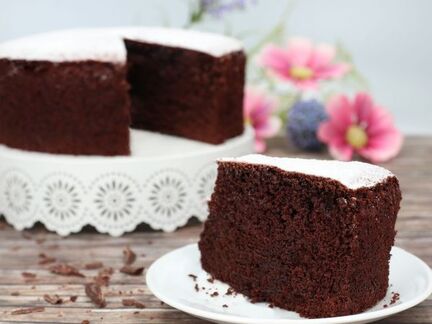 Fluffy Chocolate Cake 425g
€ 7,66
Item number: 14742
Fluffy Choko Cake - quick and easy - Super delicious baking mix

Prices are incl. VAT
Baking mix for fluffy chocolate cake consisting of:
415 g baking cream
10g decorating snow
Bake a fluffy chocolate cake quickly and easily with this baking mix.
You will also need:
150g eggs (about 3 eggs, size M)
200 g cream
Preheat the oven to 150°C above/below and line a 20cm round baking tin with baking paper. Mix the baking mixture with the eggs and cream using a hand mixer on the lowest speed, then beat on the highest speed for about 3 minutes. Spread the mixture into the prepared tin and sprinkle with half of the decorative snow. Bake for about 50 minutes, remove from the tin and leave to cool completely. Then sprinkle with the remaining decorative snow.