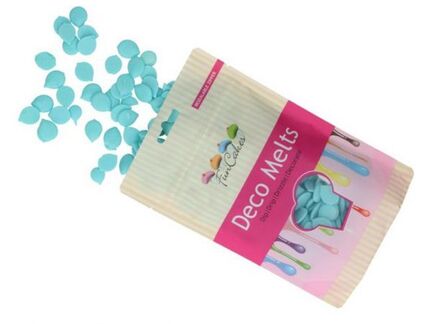 FunCakes Deco Melts Light Blue 250g
€ 4,78
Item number: 15617
Cake pop glaze natural flavour orange 260g
Practical glaze of natural aroma



Weight: 0,26 kg.
Prices are incl. VAT
Description
Ingredients & Nutrition facts
FunCakes Deko Melts offer you many decorating options! You can use them for a drip cake or sprinkle over lollipop and chocolate, but they are also great for dipping biscuits, fruit, cake pops and more. Or use them for cute decorations. The blue melt tastes like creamy white chocolate. You can easily melt Deko Melts from FunCakes in the microwave or in a water bath. The decorative melts can be melted again. You do not need additional cocoa butter because the melts have the right consistency for processing. If you want a more liquid variant, you can add a few drops of vegetable oil. If you prefer a thicker result, you can add a few drops of water. Please note that the melts cannot then be melted again. Tip: You can easily color Deko Melts with one of the many FunColours gels. FunCakes Deko Melts are AZO-free. And melts do not contain genetically modified sugar and contain no soy. Preparation: Melt in microwave or water bath. In the microwave: at max. Melt 500W in a bowl. Stir well every 15-20 seconds. Stop heating when the droplets are almost completely melted (small pieces are still visible). Continue stirring until the drops are soft and completely melted, then process as desired. Allow to cool in the refrigerator (10-15 min.). For a thinner result, add a few drops of vegetable oil. For a thicker result, add a few drops of water (not re-meltable).
Storage: Store in a dry, dark place at 16 ° C to 22 ° C. Due to temperature fluctuations, Deko Melt may melt during transport and storage. They can still be used, but they may not arrive in their original form. Follow the instructions on the packaging when using Deko Melts. You will find the following languages ​​in this package: Dutch, English, German, French, Italian, Polish, Spanish, Portuguese, Swedish, Finnish, Danish and Russian. Contents: 250 grams Package dimensions
Ingredienser:

Vegetable fat, hardened (palm kernel), sugar, WHOLE MILK POWDER, SWEET WHEY POWDER, emulsifier: sunflower lecithin, vanilla extract bourbon. Colorants: E 102 * (* can impair activity and attention in children).

Ernæringsindhold:
Tellene er gennemsnitsværdier og er udsat for naturlige udsving referencebeløb.
Indhold pr. 100 g
| | |
| --- | --- |
| Energi (kilojoules) | 2516 KJ |
| Energj (1 kcal = 4,1868 kj) | 600 kcal |
| Fedt | 39,9 g |
| Hvoraf mættede fedtsyrer | 32,9 g |
| Kulhydrater | 58,9 g |
| Hvoraf sukker | 58,9 g |
| Protein | 1 g |
| Salt | 0,2 g |