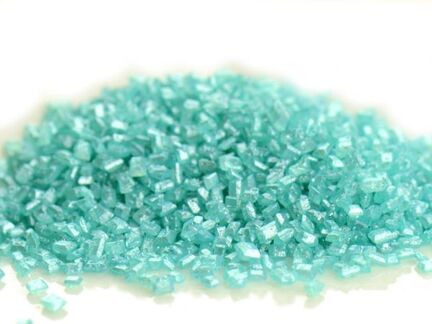 GLIMMER SUGAR TURQUOIS 100g
€ 3,79
Item number: MK14653




Weight: 0,1 kg.
Prices are incl. VAT
Description
Ingredienser og Ernæringsindhold:
Glimmering sugar crystals for decorating cakes, pastry, desserts, tarts, cake pops etc.
- Size of the crystals approx. 1-4mm

- Quantity: 100g
Ingredienser:

Sukker, overtræksmiddel: shellak; Farvestoffer: E 101, E 131, E 171; vegetabilsk fedt (kokosnød), invertsukkersirup.
Ernæringsindhold:
Tellene er gennemsnitsværdier og er udsat for naturlige udsving referencebeløb.
Indhold pr. 100 g
| | |
| --- | --- |
| Energi (kilojoules) | 168( KJ |
| Energj (1 kcal = 4,1868 kj) | 40§ kcal |
| Fedt | 0 g |
| Hvoraf mættede fedtsyrer | 0 g |
| Kulhydrater | 99,3 g |
| Hvoraf sukker | 99,3 g |
| Protein | 0 g |
| Salt | 0 g |