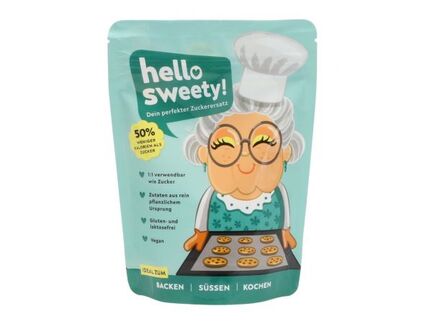 Hello Sweety - The sugar of the future 250g
€ 9,90
Item number: MK24011
Sugar substitute with reduced calorie content

Prices are incl. VAT
Description
Ingredients and nutritional content
Hello Sweety is the new calorie-reduced and tooth-friendly sugar substitute. You can use this perfectly for baking, cooking or sweetening - normal household sugar is replaced 1:1.Hello Sweety is a Swiss quality product and, with 50% less sugar, has the same baking properties as normal household sugar.

Due to the correct distribution of isomaltulose, inulin, erythrin and stevia powder, it works Hello Sweety works perfectly and can replace commercial sugar without any problems. The ingredients give the sugar substitute various properties:

Isomaltulose consists of glucose and fructose, just like household sugar, but does not cause blood sugar levels to rise as quickly. It also has the property of caramelizing during baking.
Inulin is a vegetable and water-soluble dietary fiber that improves the structure of baked goods, binds water and has a digestive effect.
Erythritol is a sweet-tasting compound found in fruits, among others. It has no calories and looks like ordinary sugar.
Stevia powder which is a natural sweetener extracted from the stevia plant, owes its name to the Hello Sweetythe sweetening effect.

Hello sweety is without artificial additives, gluten-free, lactose-free and vegan.

Ingredients:
Isomaltulose*, sweetener: erythritol, inulin, sweetener: stevioglycosides. May have a laxative effect if consumed in excess. *Isomaltulose is a source of glucose and fructose.
Nutritional information: 100g contains on average:
Calorific value
842 KJ

198 kcal
thereof healthy fatty acids
0 g