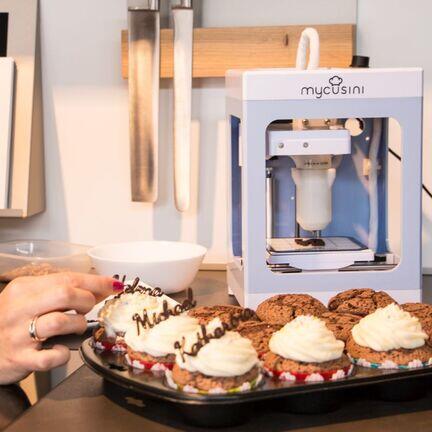 mycusini® 3D Premium Package
€ 658,48
Item number: 00053
The mycusini®Premium Package includes 2 x mycusini® Stainless Steel Cartridge, 3 x mycusini® Silicone Mat, 1 x 3D Choco Flavor Mix (for 50 cartridge fillings), 1 x 3D Praline Fillings Trial Set (4 Flavors), 1 x mycusini® Recipe Book, 1 x mycusini® Stainless Steel Tweezers and 1 x Gift Box Butterfly (4 pcs)

Prices are incl. VAT
Discover the diversity of the mycusini® world
Compared to mycusini® Comfort Package, the mycusini® Premium Package includes additional accessories like a package of mycusini® 3D Choco D Flavor Mix and the 3D Praline Fillings Trial Set with four exciting flavors.
Get creative with the 3D Choco Dark Flavors: Dark, Dark Raspberry, Dark Orange, Dark Cocos or pamper the senses of your guests with Marc de Champagne, Irish Coffee Cream, Peach-Maracuja and Yogurt-Amarena from the  Praline Filling Trial Set. Let yourself be inspired by the impressions in the mycusini® Recipe Book and surprise your guests with personal 3D pralines, packed in the beautiful Gift Box Butterfly.
Ideal as a gift
Would you like to give away a mycusini®? With the mycusini® Premium Package you do everything right. There is something for every taste in this package. Attention guaranteed.
3D choco printer mycusini® including premium starter set with:
2 x mycusini®Stainless Steel Cartridge
3 x mycusini®Silicone Mat
1 x 3D Choco Dark Flavor Mix (for 50 cartridge fillings, different flavors)
1 x 3D Praline Fillings Trial Set (4 flavors)
1 x mycusini® 3D Recipe Book
1 x mycusini® Stainless Steel Tweezers
1 x Gift Box Butterfly (4 pcs)
free access to mycusini®Club
1 x mycusini®SD-Card with more than 1000 3D templates (incl. SD card reader USB)
1 x mycusini®3D Template Overview, brochure including all the 3D objects on the SD card
1 x international 12 V power supply with country specific plug