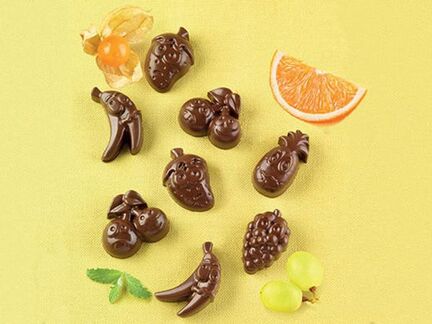 Silicone Praline Mould Fruits
€ 7,42
Item number: 16605
Silicone Mould for Sweets and Desserts

Weight: 0,2 kg.
Prices are incl. VAT
SILICONE MOULD FOR CHOCOLATES
Choco Fruits, the silicone Mould to make fifteen pineapple, cherry, grape and banana-shaped chocolates! Try them as fancy snacks, decorations for your desserts or to accompany a sweet coffee! Preparation will be quick and easy thanks to the recipe enclosed in each packaging.

Freezer / blast freezer proof
Dishwasher safe
Ovn / mikrobølge bevis

Sizes:
ANANAS 38x22 h 15 mm
STRAWBERRY 35x25 h 15 mm
GRAPES 35x23 h 15 mm
CHERRY 36x31 h 15 mm
BANANA 40x27 mm h 15 mm
Vol. Total: 91ml
Cavity: 15
Vol. Cavity: 6ml