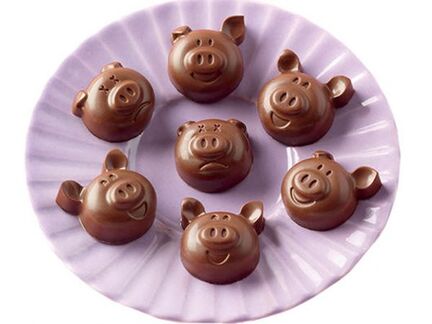 Silicone Praline Mould Pigs
55,20 DKK
Item number: MK16608
Silicone Mould for Sweets and Desserts

Weight: 0,1 kg.
Prices are incl. VAT
SILICONE MOULD FOR CHOCOLATES
Do you want a funny and original alternative to classic chocolates? Try Choco Pigs to make fifteen amusing pig-shaped chocolates! Amuse your guests, offer your chocolates as delicious snacks or use them to give a funny touch to your desserts and to your coffee-break! The recipe included in each package will help you during preparation.

Freezer / blast freezer proof
Dishwasher safe
Ovn / mikrobølge bevis

Sizes: 31mm x 29mm x 15mm
Vol. Total: 101ml
Cavity: 15
Vol. Cavity: 6,7ml