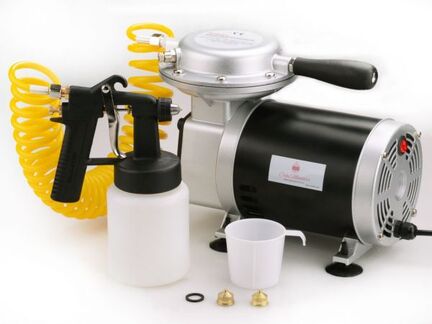 Spraygun set
980,00 DKK
Item number: MK013788
Spraygun set
For extensive airbrush works
Prices are incl. VAT
In this set you get a spray gun set for painting large areas. You can use it to spray large areas with paint or food colouring or liquid cocoa butter on whole cakes or display pieces to achieve a velvet effect. For example, to achieve a nice dark velvet effect, mix 300g of liquid dark chocolate and 400g of liquid cocoa butter. When spraying with cocoa butter, make sure that the object or work area is cold enough so that the cocoa butter does not bind to the object when it hits the surface. This is the only way to achieve a first-class velvet effect.
Delivery includes supply line for airbrush gun

The high-quality airbrush compressor delivers a steady, continuous airflow and a reliable output of max. 3.5 bar.
The spray gun can be used with either a jet nozzle or a mist nozzle (1.3 mm). The paint container holds 750 ml. The compressor is oil and maintenance free and is suitable for art, hobby, makeup, body painting and of course cake art.
Technical data:
- Power: 250W/230V
- Air pressure: max. 3,5 bar
- Weight: 9,5 kg
- Size: 36x17x23cm